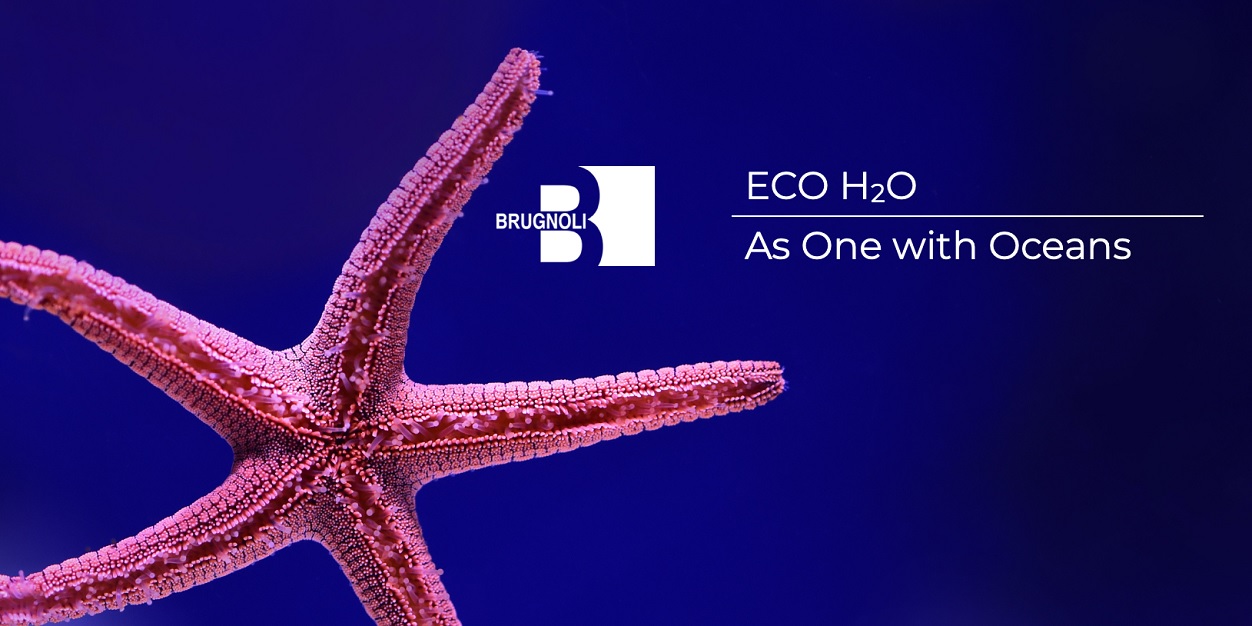 [company news]
Brugnoli® introduces ECO H2O – As one with the oceans
The new textile range reducing its impact even in seawater not only at the very end of its life cycle but also during its whole lifespan.
Brugnoli® is granted ZDHC Certification – RoadMap to Zero.
Brugnoli® – pioneer in eco-sustainable fabrics – introduces its new range ECO H2O, engineered to reduce its impact not only in landfill, at the very end of its life-cycle, but also during its whole life span.
Though polyamide is less prone than other fiber to release micro plastics in Oceans, this remains a key subject in eco-sustainability.
To contribute in protecting Oceans and their fauna, Brugnoli® introduces ECO H2O the new fabric range created with the innovative polyamide Sensil® BioCare by Nilit, enhanced with a special technology that helps reduce the persistence of textile waste:
-IN LANDFILL: with a process that speeds up the standard time needed for polyamide degradation;
-IN SEA WATER: third part independent testing confirmed that the polyamide used in the new range ECO H2O by Brugnoli® has the extra-ordinary feature to breakdown significantly quicker than standard polyamide.
This is an important result in favor of the environment and even more specifically in favor of Oceans and their fauna.
New range EcoH2O by Brugnoli® counts today 3 articles with different structures and use: a flat jersey for intimate apparel, a tech fabric for sportswear and swimwear and a 3D structure for T-shirts and swimwear.
EcoH2O is the latest eco solution of Brugnoli's which counts more than 400 eco-sustainable articles such as:
– Patented Br4® range with bio-based polyamide and eco-sustainable production process reducing water and energy
consumption
– B.recycled range with recycled polyamide at pre-consumer level, the very first action to reduce waste amount
– B/back range with polyamide with enhanced biodegradability at end of its lifecycle
– Tencel™ products, cotton with BCI, RWS certified wool and viscose from cotton linter
Eco H2O confirms once again Brugnoli® consistent approach to sustainability and in this occasion the company also announces that has been granted certification ZDHC – Roadmap to Zero, which is now together with the previously obtained certifications:
Oekotex Standard 100 – GRS Global Recycled Standard – Tessile & Salute – RWS Responsible Wool Standard – Supima® and the participation to Better Cotton Initiative.
https://www.brugnoli.it/
Brugnoli Giovanni S.p.A.
Since 1952 Brugnoli has created circular knit fabrics 100% made in Italy for ready to wear, sports, swimwear and lingerie with innovative and ecosustainable
tailor-made solutions for perfect fit garments of brands in more than 70 countries.
Brugnoli has a wide collection of fabrics in polyamide, also recycled, bio-based (Br4® technology-patented) or with enhanced biodegradability – extra
fine merino wools with a technical flawless approach both for ready to wear and active lifestyle, protective fabrics for outdoor with stretch membrane,
waterproof, windproof and breathable. Together with a specific offer of fabrics for comfortable shirts, trousers, lights and transparencies.
Throughout the years Brugnoli developed several proprietary textile technologies, some of which also have been granted a patent.
Brugnoli Giovanni S.p.A. is being committed in eco-sustainability since several years and has been granted several certifications such as GRS – Global
Recycled Standard, RWS – Responsible Wool Standard, ZDHC – Roadmap to Zero, Oekotex Standard 100, Tessile e Salute, BCI – Better Cotton Initiative,
Supima® Cotton.