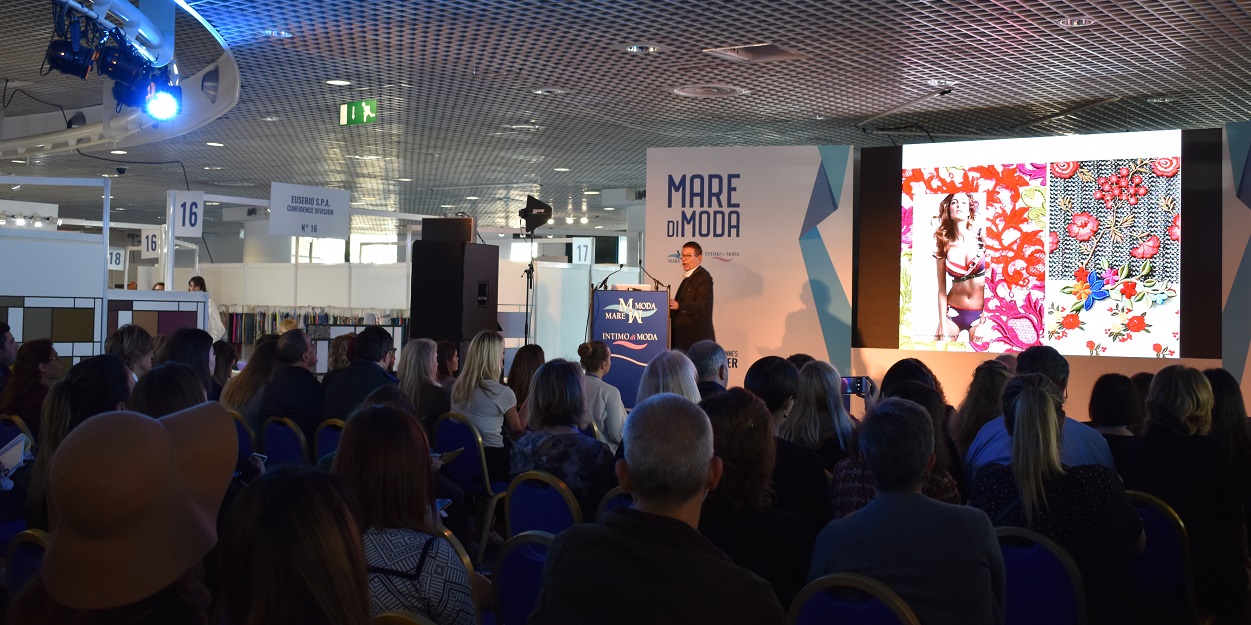 Escaping into 2023
"Locked down and forced to stay at home we were planning our escapes. Now, that we are more free, we feel like being unconventional, being at the centre of the attention more than before. Colour and prints abundance reveal an exciting feeling of astonishing. All indicators are back to past levels but what is really changed is ourselves. We feel like daring and being unconventional. Maybe, we have understood once for all how precious our freedom is.
Join our MdM trends presentation as we 'engineer', 'regenerate', 'create' and 'reinvent' our way into 2023."
David Shah
The trend presentation is scheduled in the MarediModa events area on November 9th at 11:30 am and November 10th at 11:30 am, followed by a guided tour of the trend forum by David Shah.
NEW: every visitor attending the 2021 edition of MarediModa (November 9-10-11 @Palais des Festivals Cannes) may enjoy a free access to the exclusive S/S 2023 trend book: a 182-page trend presentation, color cards and link to watch David Shah's video presentation
A unique and must-have tool, a source of inspiration and a true sextant for the preparation of any beachwear, intimates or athleisure collection, which long to explore new territories and cross-contaminations. Developed by two masters in trend forecasting, David Shah and Anne Marie Commandeur, this digital book is available at a very competitive price. "The aim of this ambitious project – underlines David Shah, publisher and trend forecaster – is to provide a valuable tool able to trigger creative sparks, enlighten new visions and stand side by side of the creative process from social scenario until the upcoming fashion trends".
Click here to get your free-pass to MarediModa
Here are trends 2023:
ENGINEER
swimwear | bodywear | athleisure | MW & WW
In betting on a more optimistic future, we acknowledge the positive synergy between nature and technology. We explore the boundaries of what science, technology and design offer to help us create hypernatural textiles to outsmart reality, animate static matter and disrupt our perceptions.
CURATE
swimwear | bodywear | athleisure | mw | ww | childrens
The curation of indigenous and ancient textile making and folkloric craftsmanship as part of the design process is a continued offshoot of the 'Slow' movement.The desire for crafted objects reflects people's desire for physical connections and community in an overwhelmingly virtual world. Moving towards reconsidered sensibility, where products are built to last for generations rather than seasons, today's socially minded designers and makers look to revive and reinvent craft traditions.
REGENERATE
swimwear | bodywear | athleisure | mw | ww | childrens
Designers bring the boundlessly diverse textures and colours of nature into play. They foster a biocentric perspective out of admiration, awareness and wider ecological consciousness. This approach generates a positive inspiration, a renewed interest in indigenous resources and primitive nature induced patterns, forms and manufacturing techniques. The flaws and imperfections of natural materials quench the thirst for purity in design.
RECREATE
swimwear | bodywear | athleisure | mw | ww | childrens
This story celebrates aesthetic freedom, genre-defying creativity and liberating individualism. In search of a positive relationship to the product, designers return to traditional hand skills via thrifting, creative upcycling, reuse and repurposing, giving discarded materials a fresh lease of life. Mark-making, expressive painterly patterns and free-spirited graphics drive positive energy and dynamism and show powerful urban street influences. A younger crowd is fighting for liberty, rejecting homogeneity, celebrating the individual, and reinforcing the role of art in fashion and the sense of craft.
IMAGINE
swimwear | bodywear | athleisure | mw | ww |
Our world is in constant flux and needs progressive technology to catch up with the constant shifting and transcendence of desires and needs. With this theme, we imagine the hyper-functional to keep us comfortable, active and safe, protected, healed and recovered. To actually meet these utopian performance expectations and gain complete trust and transparency, we must tap into the smartest and latest technologies. The tech-trusting, self-confident and informed wearers of today will buy into the world of blockchain, enabling them to track and trace the entire process from raw material to the closet. They buy into VR technology that captures the right fit and measurement, while blockchain keeps a record for their repeat shopping experience.