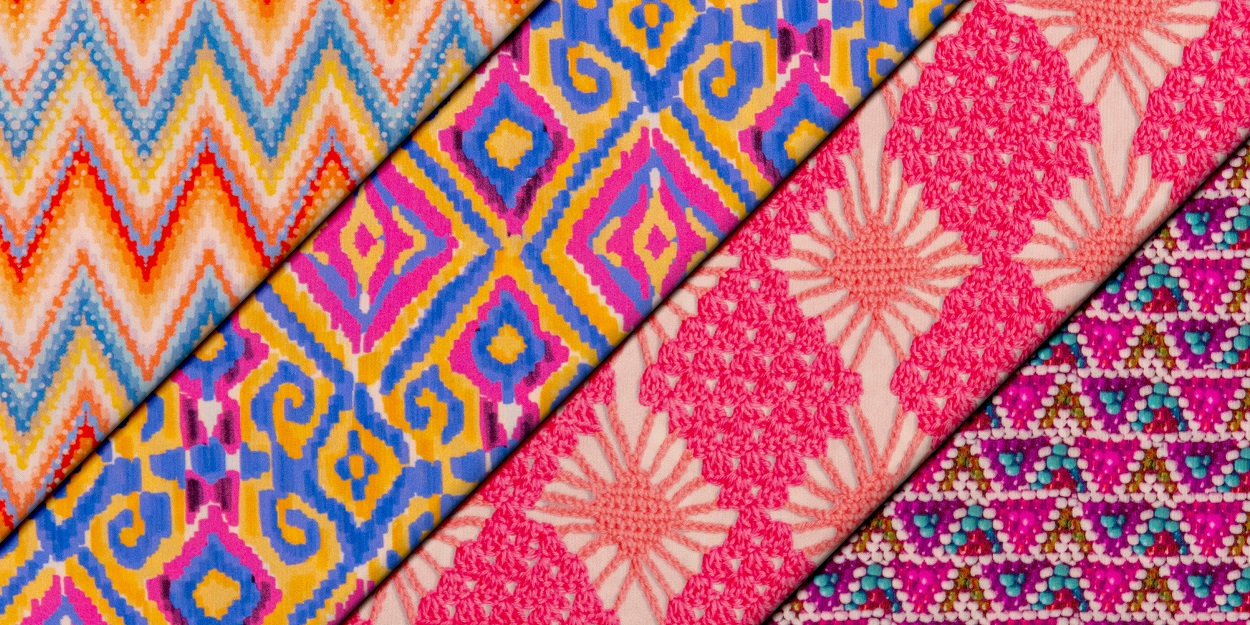 [company news]
EUROJERSEY presents the beachwear collection "GETAWAYS" 2025 of Sensitive® Fabrics
A summer 2025 with must-have garments for a refined lifestyle by the sea, in the pool and on the boat interpreted by Sensitive® Fabrics with new aesthetic designs for a travel and holiday escape.
From season to season, western luxury consolidates its ties with the Orient with an innovative use of vibrant prints to create colourful and sensual atmospheres. Watercolour effect motifs inspired by the deep blue of the sea paint Sensitive® Fabrics to recreate those feelings of dreamlike calm floating in the waves of the sea. The bright and playful colours of Caribbean carnivals in a multitude of shapes and colours, with macro prints and handcrafted decorations for beachwear proposals celebrating pure joy, take the imagination on a faraway journey. Preppy style influences are incorporated in a nuanced and revisited way for a summer with a fresh and modern approach, while carefree and adventurous beach fashion looks to the Californian beaches of the 1970s in search of the adrenalin rush that helped create that lifestyle of nautical patterns with a sunny mood.
Sensitive® Fabrics have been confirmed as the fabrics of excellence for the swimwear industry, high-performing and providing 50+ sun protection. Breathable and quick-drying, they are resistant to the effects of chlorinated water, salt water, sunscreen and ten times more heat than other fabrics. Known for their patented textile construction with three-dimensional elasticity and tested shape and colour retention, they are the result of an innovative technology for making protective, versatile, easy-care and easy-wear swimwear.
Five trends in the collection for summer 2025: EXOTIC RENAISSANCE, AQUATIC BLUES, CARNIVAL, PARADE and NOSTALGIC HUES.
FOCUS TREND
EXOTIC RENAISSANCE
The link with the refined and elegant Orient is revealed in this concept inspired by the beauty and vibrant exotic culture enclosed in a precious travel booklet. An invitation to timeless elegance with an innovative use of prints that aim to create a colourful and sensual atmosphere, dedicated to a palette of warm tones between amber and pink. Floral incursions and crochet-style weaves rest on the natural dyed backgrounds of Sensitive® Fabrics celebrating a decorative and delicate luxury that enhances that oriental connection with a poetic taste. An evanescent and pure style involving a beachwear that leaves room for creativity and comfort for both resort and cruise wear.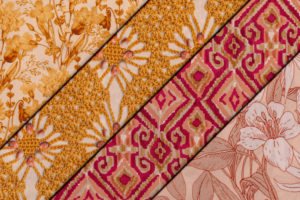 Sensitive® Fabrics by EUROJERSEY_Exotic Renaissance
AQUATIC BLUES
A trend that chases the infinite movements of the sea, reflections, refractions and waves in a liquidity and depth of sea to generate those shades of blue that with architectural skill are laid on Sensitive® Fabrics. A vibrant language of watercolour prints in sculptural and fluid colours that merge and dissolve into each other. This is the elaboration of an incredibly fascinating and unique call to nature, for designs with the floating shapes of waves breaking with a magical effect on the rocks, inspiring the most striking creations for a harmonious and comfortable marine look.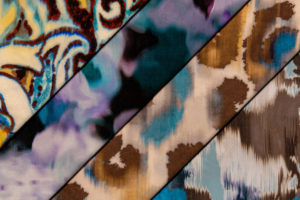 Sensitive® Fabrics by EUROJERSEY_Aquatic Blues
CARNIVAL
Timeless for summer fashion, the joyful and cheerful theme inspired by Caribbean carnivals in a riot of contrasting, bright and vivid colours and the explosion of costumes and traditions in festive music and dancing in a concentration of pure vitality.
A variety of daring patterns become the undisputed stars of Sensitive® Fabrics with motifs of tropical flowers, leaves and fruit as well as handcrafted decorations with 3D effect bead prints. A touch of freshness and joy runs through this world of fanny glam costumes, really winning everyone over and promising to make everyone sparkle with exuberance and a zest for life in casual style.
Sensitive® Fabrics by EUROJERSEY_Carnival
PARADE
Colorazioni vivaci del rosa e del fucsia dominano intrecci e geometrie dallo spirito preppy pop, lo style ispirato all'american way of life, in un sogno di fuga sulle lunghe spiagge degli Hamptons davanti ad un oceano sconfinato. Stampe accattivanti aggiornate da una rivisitazione moderna, accentuano il contenuto naive e romantico di questo tema elaborando tessuti Sensitive® Fabrics che guardano ad una collezione estiva, fresca e vibrante. Diverse combinazioni di colore dall'aspetto energetico e vitaminico diventano il must per giocare con nuovi stili, e suggerire nuove tendenze di capi beachwear divisi tra bikini e trikini.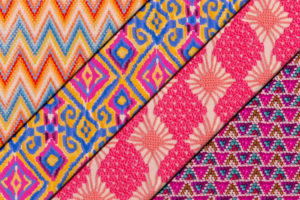 Sensitive® Fabrics by EUROJERSEY_Parade
NOSTALGIC HUES
Vivid colours of pink and fuchsia dominate the weaves and geometries with a preppy pop spirit, the style inspired by the American way of life, in a dream of escaping to the long beaches of the Hamptons in front of an endless ocean. Eye-catching prints, updated by a modern reinterpretation, accentuate the naive and romantic content of this theme creating Sensitive® Fabrics that look to a summery, fresh and vibrant collection. Different energetic and vitaminic colour combinations become the must to play with new styles, and suggest new trends in beachwear divided between bikinis and trikinis.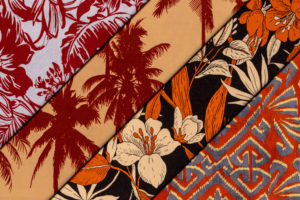 Sensitive® Fabrics by EUROJERSEY_Nostalgic Hues
For further information:
www.sensitivefabrics.it – www.facebook.com/sensitive.fabrics/ – www.instagram.com/sensitivefabrics/
Press Office Eurojersey: Paola Bosetti_BosettiStudio – Tel. +39 02 97069098  pb@bosettistudio.com
Discover Eurojersey new collection @MarediModa, November 7-8-9, 2023 – Palais des Festivals – Cannes
Get your free-pass: https://freepass.maredimoda.com/