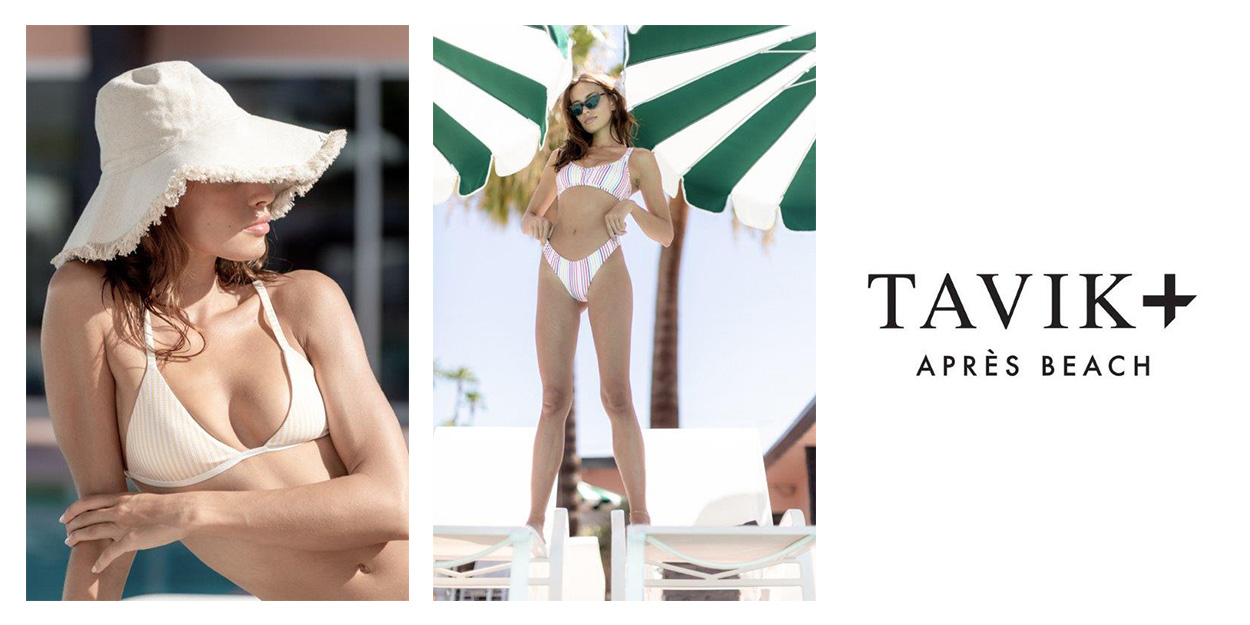 Interview with Jessica Roberson e Carly Osler – TAVIK
Interview with Jessica Roberson – Women's Senior Product Manager e Carly Osler- Women's Design/Trend Forecasting – TAVIK
– Founded in 2004 Tavik stands out as a lifestyle brand. Has your style changed throughout the years or has remained true to itself? What are the main features of your brand?
Tavik was born from an experience. The brand was formed to provide transitional collections extending beyond the sand, through day and night, Après Beach. Our suits are made and designed in CA, which allows us to stay on trend. The style of the Tavik girl has definitely evolved over the years while staying true to the brands dna, she is polished yet laid back; elegant, yet edgy. Eco friendly fabrics are at the heart of the brand, while keeping our focus on elevated textures and a great fit.
– For all international brands, today, more than ever, it is time to make up their mind: mass-produced and anonymous products or products with a real added value in terms of style and materials. How important is the choice of high-quality fabric for you?
High quality novelty textures in timeless yet modern silhouettes is very important to us. We are making a huge effort to use Eco Conscious / recycled materials. Starting in 2021, approx. 85% off our swimwear will be made with Eco-friendly materials, including some of our hardware.
– What are the essential features of a swimsuit which a modern American customer cannot give up to?
Fit is top priority, and they really appreciate that Tavik is designed and made in Southern California. We feel lucky to be close to our factory, so we can make changes right away. Which is key in getting the perfect fit.
– A trade show, to be unmissable, must provide a proposal of quality, up-to-dated services, moments of discussion and deepening. What did you appreciate the most during your visit to MarediModa?
We are very thankful for being given the opportunity to be exposed to the European market. We were inspired by all of the different novelty fabrics, trims and most importantly the focus on an Eco friendly offering. Being asked to judge the LINK fashion show contestants was an amazing experience!
– "Hopefulness" is the key concept predicted by our trend forecaster David Shah. This word will characterize the upcoming edition of MarediModa. What do you think about it and in your opinion how should we expect the future of the swimwear industry?
Consumers lean towards purchasing experiences and an importance on selfcare and personal wellness, which are in line with feeling hopeful. We strive to create silhouettes and fabrications that flatter every body type. We design multiple fits and coverages to help you feel confident in our suits.