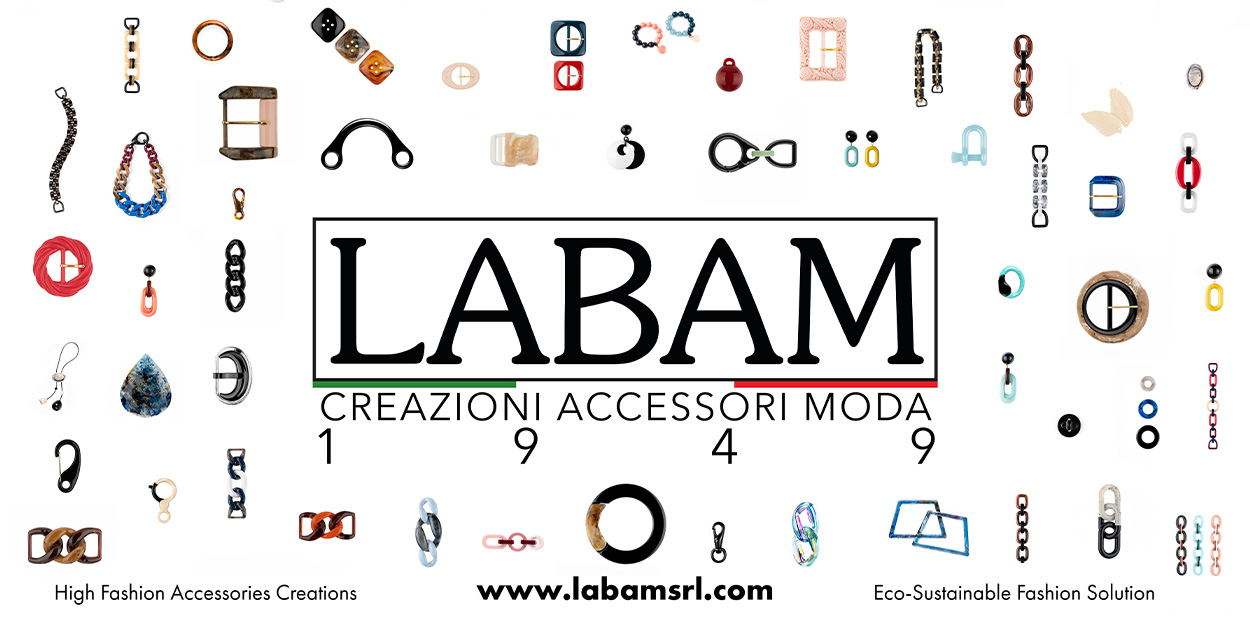 [company news]
Labam, Made in Italy accessories that make the difference
HISTORY
LABAM was born as a button factory in Parma (in 1949. Between the 1950s and 1960s, were introduced specific products that were not yet available on the market. As a result, this production of resin jewelry and embroidery components was expanded and quickly gained market success. Hand in hand with the development of the company, the leather goods, footwear and clothing sectors were introduced. This is where the story of the resin fashion accessory originates, still recurring today, revised in colors, models, materials and styles. LABAM moved its operational headquarters from Parma to Basilicagoiano di Montechiarugolo near Parma in 1978.
LABAM TODAY
Today LABAM is a company specialized in the production of resin fashion accessories, obtained with an industrial process but with the quality and care of a handcrafted product. Currently the production boasts 30,000 items including accessories and components. The company actively collaborates with many brands on the national and international fashion scene. Every year it participates in numerous international trade fairs. The total production plant is today about 10,000 covered square meters on an area of about 40,000 square meters.
CRAFTSMANSHIP OF MADE IN ITALY
The entire production of LABAM products takes place in Italy by a group of highly qualified professionals and exceptional craftsmen. We always manage to provide our customers with the best possible quality thanks to our commitment and our passion. The "LABAM creation of high fashion accessories" products derive from an industrial process of maximum efficiency but with an artisanal aspect, where the quality control and finishing processes are carried out exclusively by a selected team of professionals who add value to each individual component. Traditionally innovators, we have focused on the future for over 70 years.
THE PRODUCTS' AUTHENTICITY
LABAM produces all its products at its headquarters in Montechiarugolo (Parma), proud of its Italian production. From the 1940s to today, LABAM has helped the fashion accessories sector to change by inventing revolutionary items that would have never been taken into consideration in this sector. The entire production cycle is managed by LABAM. It begins with the stylistic study, followed by the two- or three-dimensional design, the various prototyping phases, the production of the molds and the finishing and assembly phases. Skilled labor performs all processes manually. The final packaging and delivery of the item after the selection and quality control process guarantee an authenticity ONLY MADE IN ITALY.
Services
LABAM designs, develops and produces designs and materials. Satisfies specific customer needs with its extensive experience in custom design. Some of the services offered by the company are listed below: • CREATION, PLANNING AND DEVELOPMENT OF DESIGN AND MATERIALS • GREAT ARTISAN/INDUSTRIAL/AUTOMATED PRODUCTION CAPACITY • AD HOC PROCESSING WITH HIGH QUALITY STANDARDS • QUALITY CONTROL AND PACKAGING • SHIPPING AND DISTRIBUTION MANAGEMENT • AFTER-SALES ASSISTANCE
Materials
LABAM uses the following materials for its collections: PLEXIGLASS (PMMA), ABS, NYLON, POLYCARBONATE, RUBBER, RESINS AND EXCLUSIVE POLYMERS, BIO PLASTICS, RECYCLED POLYMERS
FINISHES
Fashion accessories can be produced in a variety of finishes, such as: GLOSSY, SATIN, MATT (with various shades), CHROME IN MULTIPLE SHADES, GALVANIZED IN MULTIPLE SHADES, TACTILE AND CHROMATIC
SUSTAINABILITY
The significant investments that has being made in environmentally friendly technologies and materials open up to new opportunities for sustainable fashion. A wide variety of fashion accessories are produced by LABAM by using sustainable and 100% recyclable materials, such as biopolymers and plastics made from post-consumer's waste. LABAM already has solar panels, LED lights, and a charging station for vehicles. Our commitment involves integrating renewable energy sources and enhancing energy efficiency. Every year, 100 tons of CO2 are saved by using renewable energy.
LABAM GREEN
The formation of "LABAM GREEN," a project which LABAM has faced considerable investments in the last 10 years to effectively upgrade the whole production site, was motivated by concerns about waste and environmental contamination. All green businesses, which are dedicated to minimizing their influence on the environment, economy, and society, face the challenge of sustainability. We constantly pay close attention to the origin of the materials and the recycling process. Due to this, we have chosen raw material suppliers who use the most advanced technologies while also preserving the environment.
PRODUCTS
A variety of goods and accessories for high fashion and other uses are presently produced by LABAM s.r.l. It offers its clients the ability to choose and develop luxury items that are totally personalized to satisfy the stylistic requirements of each individual project.
Here is a list of some of the various goods produced by LABAM: LEATHER ACCESSORIES Carabiners Chains Closures Components Sails and Eyelets Drawstring stopper Clamps Studs BAGS ACCESSORIES Closures Handles Chains and Tracks Carabiners FOOTWEAR ACCESSORIES Clamps Buckles Components CLOTHING ACCESSORIES Chains Drawstring stopper Buckles Clamps JEWELRY Rings Bracelets Chains Necklaces Carabiners Earrings SWIMWEAR ACCESSORIES Rings Chains Closures Components Clamps CHARMS AND SYMBOLS Charms Symbols BUTTONS And much more . . .
https://labamsrl.com/
Discover LABAM new collections for hte beachwear sector @ MarediModa Cannes 7-8-9 November 2023
Get your free-pass: click here