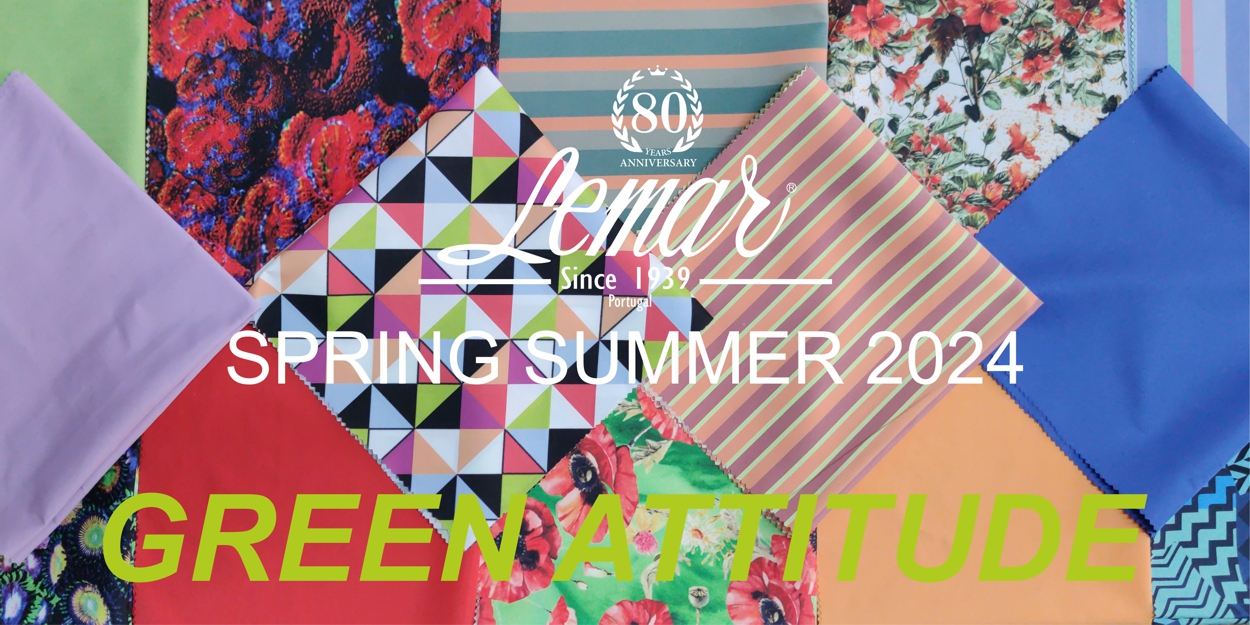 [company news]
Lemar S/S 2024 – Green attitude
Swimwear is one of the most competitive industries in the fashion world.
At Lemar, we've worked with hundreds of designers and brands to help them launch or expand their Swimwear collections. This wide range of experience has taught us a lot, and before diving into the various fabrics used in Swimwear and their benefits, we want to share with these key guidelines what we've learned from these challanges.
Swimwear fabrics are made of synthetic fibers, so we realize such fabrics don't have the level of sustainability that we wish they had, but honestly speaking, there's no other way to make a proper swim short and we can't fairly compare such fibers to anything natural!
Fortunately, there has been so many innovations within the textile industry, meaning that sustainability no longer has to compromisse styling.
Upcycling plastic waste into a high-quality 100% recycled with accelerated decomposition yarn has been our eco choice to replace virgin filaments. By choosing these alternatives, our fabrics do not lose the same durability and strength as convetional fibers, yet we all seriously diminish their ecological impact.
To bring together such details, we have been carefully designing our collections with responsible source, fiber choice, eco-labels and fiber-to-fiber technologies.
These technologies have improved positively the features of the fibers selected, helping us to develop fabrics with better performance from an environmental perspective.
We are glad to say that a great number of our fabrics are already woven with 100% upcycled and with accelerated decomposition yarns!
Among polyester eco-friendly labels, we'd like to introduce you to our fabric options woven with Seaqual™, Newlife™ and Yarnaway™ fibers:
Our Seaqual fabrics are made of high-quality 100% post-consumer recycled polyester yarn containing upcycled marine plastic collected directly from our oceans. Newlife fabrics are made with yarns completly derived from recycled post-consumption plastic bottles colected from landfills.
Our Yarnaway fabrics provide a one-of-a-kind option for boosting decomposition in biologically active landfills that dramatically reduces the composition period from about 300 years to an estimated time of 3 to 5 years!
In our eco polyamide collection range we have:
Amni Soul Eco that is the first polyamide 6.6 formula yarn with improved biodegradability offering the ability for garments to degrade tem times faster than other fibers.
Sensil EcoCare fabrics made from recycled post-industrial waste that reduces energy consumption and conserves valuable natural resources.
Q-Nova™ fabrics that is yarn made from waste materials which could not have been reused in any other way and it's production is mechanical regeneration which does not involve chemical materials.
We will also be presenting fabrics made with Evo® that is an innovative bio-based yarn made from castor oil – not for feeding plant that grows spontaneously. A totally renewable resourse that does not require high amounts of water nor subtracts arable land for food uses.
Our yarn dye stripes are no doubt also one of the star players in an innovative and unconventional collection! Woven mostly with eco-labels, we invite you to meet our blend of Seaqual™ with Lenzing ™ Ecovero™ Viscose, derived from certified renewable wood sources using eco-responsible production and by this action, contributing to a cleaner environment.
Lemar – booth 79 @ MarediModa – November 8-9-10 – Palais des Festivals – Cannes, France
Click here to get your free-pass