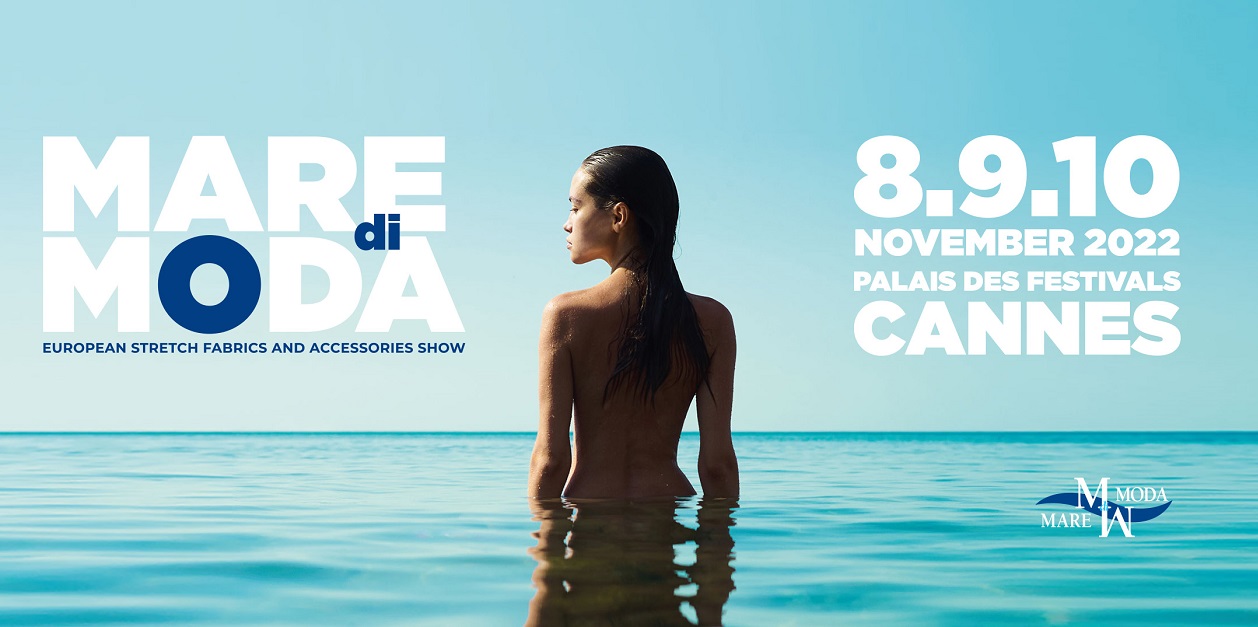 MarediModa celebrates 20 years with a special edition in the usual iconic setting of the Palais des Festivals in Cannes (November 8-9-10, 2022)
More than two hundred and fifty collections of beachwear, underwear, athleisure and accessories fabrics for summer 2024 previewed by the hundred most qualified European companies. The widest international overview. MarediModa returns with its traditional formula, after two years of restrictions, and celebrates twenty years of success in the usual setting of the Palais Des Festivals in Cannes. An edition that reappropriates the moments of sociability and conviviality that have always outlined its spirit.
"Twenty years ago," emphasizes Claudio Taiana, president of MarediModa, "a small group of textile entrepreneurs had glimpsed the possibility of thinking of a new, self-managed fair with an unusual formula, more welcoming and confidential, that could protect and promote the European fabric of controlled origin, without compromise. Gradually, this choice has proved increasingly rewarding, especially in recent years, when the demand for reliable and sustainable suppliers at every stage of the supply chain is experiencing vertical growth. More and more brands are returning to choose European fabric not only for creativity, quality and innovation but also for easier logistics and tailor-made design, unthinkable elsewhere. Today we celebrate an important anniversary with the historical companies of our circuit, with many new entries and excellent returns."
Athleisyou, the gallery of sports prototypes created in collaboration with a group of exhibitors and finalized by ISGMD is proposed to be even more enveloping and creative, a true source of inspiration. Among this year's novelties, it is worth mentioning the "FLASH project" born from MarediModa's initiative to propose a photo and video shoot to its exhibitors to better enhance the most evocative fabrics of its collections with a current and refined language.
The partnership with The LYCRA Company is renewed, which will present the latest innovations between innovation and sustainability in an unmissable speech in the events area and inside the VIP lounge.
THE LINK 2022 COMPETITION
The Link competition for young fashion designers returns, with its integral formula and thus with the fashion show event and the presence of the nine finalists selected from the best European fashion design schools.
Finalists:
UNDERWEAR
ADRIAN GABRIEL ANGHEL – ROMANIA-UNIVERSITY OF ART AND DESIGN – CLUJ NAPOCA
SHERTIENNE LEE – MALAYSIA-LONDON COLLEGE OF FASHION
FIONA REHBERG – GERMANY-UNIVERSITY OF APPLIED SCIENCE – HAMBURG
ATHLEISURE
IPEK ÇAKIR – TURKEY-MARMARA UNIVERSITY OF FINE ARTS
GIULIA CASTELLINI – ITALY-NEXT FASHION SCHOOL
MARTA TENDERINI – ITALY-ISGMD
BEACHWEAR
ANGELICA TINTI – ITALY-NEXT FASHION SCHOOL
GIULIA QUERIO – ITALY-INSTITUTE OF FASHION BURGO – TURIN
MIHAI CRISTIAN ANGHEL – ROMANIA-UNIVERSITY OF ART AND DESIGN – CLUJ NAPOCA
TREND FORECASTING – WONDERLAND
Ample space will also be devoted to the Trend Forum and exclusive themes for S/S 2024, defined by the MarediModa Trend Board led by trend forecaster David Shah
"The pandemic is behind us, we play on the attack in search of experiences beyond the everyday, not only within our physical environment, but also in the online world, where gaming has become the most current tool to express who we are. We crave escapism, novelty and the pursuit of the path of knowledge. In the meantime, climate crisis, inequalities and social problems have to be addressed, so there is a need for responsibility and positivity in acting and dressing to allow everyone the opportunity to access Wonderland!" David Shah
The trend presentation is scheduled in the MarediModa event area on Nov. 8 and 9 at 11 a.m., followed by the unique guided tour experience of the trend forum, curated by David Shah.
Trends for S/S 2024:
ESCAPIST
swimwear | bodywear | mw | ww
Designers and creators are deliberately losing themselves in the wonders of alternative imaginary universes. In response to these tumultuous times, designers are going on the offensive, attracted by the endless opportunities for transformation offered by gaming, fuel for creatives to come up with immersive, fascinating and exciting "skins." "Skins" that, once materialized, become ever more sensational, sensual and sexy: narrative skins enhanced to make real life even more attractive.
TRANSCENDENT
swimwear | bodywear | athleisure | mw | ww | childrens
In reconsidering our role on the planet, we reestablish our personal inner and spiritual relationship with the world of nature as something greater than ourselves. Seeking a deeper connection with nature, we draw positive inspiration for biocentric design. We do so from a contemporary perspective supported by science along with advanced technology-not to rule and dominate, but as an act of humility. We are all guests of nature.
WISHFUL
swimwear | bodywear | athleisure | mw | ww | childrens
We are witnessing a resurgence of activism in fashion, reminiscent of the 1980s when fashion history and environmentalism gave a response to the politics of the time. A practical, solution-oriented utilitarianism reigns, resulting in exaggeratedly functional elements and a palette of materials that combine hyper performance engineered with upcycled organic and synthetic resources. This results in hybrid body gear expressed through energy, inclusivity, and positivity. Today's consumers have many tools that allow them to create and communicate ideas and opinions, and dressing is one of their favorite mediums. Stripped of their frivolity, these clothes become "equipment" to face life as it comes or to actively beat it, act and rebel. This is a positive and powerful story.
MAKESHIFT
swimwear | bodywear | athleisure | mw | ww | childrens
Counter-culturists and young activists mobilise the fashion community by taking their cue from the broader creative culture. In the aftermath or reawakening of 2018 hopepunk, youth combines the aesthetics of being soft and gentle with the messy politics of revolution. Today's widespread environmental awakening makes us recognise the role of craft, fashion, and art, bringing visualisation and experimentation in facilitating conversation around the world's problems and design solutions. Reuse is vital, turning to ad hoc and spontaneous remakes and reconfigurations. We've been there before, and considering the current events, we see this not as a trend but as a long-term movement.
SISTERHOOD
swimwear | bodywear | ww | girls
Female empowerment has many facets: today we see it in celebrations of sisterhood, feminism, wellness, and spirituality. In anticipation of a time when women will lead the world, we idealize female subjects historically objectified in art and culture as women and girls capable of choice. Hyper-romanticism is blended with a touch of spirituality instead of the hard pragmatism and
provocation experienced today. Finally, an alternative or new life is sought in the body-positivity movement, focusing on self-love, beauty, health and wellness.
All visitors attending the 2022 edition will receive free access to the exclusive S/S 2024 trend book: 193-page pdf trend presentation, color chart and link to review David Shah's unmissable video presentation.
The "MarediModa Creative Excellence Award" is a recognition that the Cannes fair gives to international brands that, over the years, have been able to build and consolidate an image and history of absolute excellence, absolute examples of creativity, know-how and product ethics.
Wacoal, the global brand specializing in lingerie, beachwear and shapewear born in 1949, with an unmistakable and modern style, reaches all women in every corner of the planet with the brands Wacoal, Freya, Elomi, Fantasie and Goddess. Luli Fama, on the other hand, is a vitamin-packed brand inspired by the colors and atmosphere of Miami by putting the focus on the choice of fabrics and accessories.
"This year we are celebrating two more successful brands," emphasizes Claudio Taiana, President of MarediModa, "and we are doing it with two exceptional guests who have always attended it. Wacoal and Luli Fama, with their identity, best represent the universal excellence of well-made. Absolute references with a unique tradition."
EVENTS AREA AGENDA
NOV. 8 – TUES.
h. 11.00
Swim, lingerie and athleisure trends presentation 2024 (ENG/ITA)
Trend presentation followed by guided tour of the trend forum by David Shah
h. 14.45
Creative Excellence Award – WACOAL
h. 15.00
Durable swimwear is sustainable swimwear (ENG/ITA)
Alistair Williamson Vice President, EMEA & SOUTH ASIA Apparel – the LYCRA COMPANY
h. 15.30
How 3D technology can help you reduce waste, costs and time (ITA/ENG)
curated by THE BEST OF FABRICS by Intima Media Group in partnership with Maredimoda.
Presented by Francesca Spinetta Editorial Director – Intima Media Group
——————
NOV. 9 – WED.
h. 10.45
Creative Excellence Award – LULI FAMA
h. 11:00
Swim, lingerie and athleisure trends presentation 2024 (ENG/ITA)
Trend presentation followed by guided tour of the trend forum by David Shah
h. 18:00
ANNIVERSARY NIGHT (presentation of plaques to companies celebrating anniversary: Carvico S.p.a., Brugnoli Giovanni S.p.a., Maglificio Ripa S.r.l. and Clerici Tessuto S.p.a.)
to follow.
THE LINK 2022 – Competition for young designers.
Fashion show of the collections of THE LINK competition finalists in the beachwear, underwear and athleisure categories. Winners' announcement, cocktail reception and DJ set
——————
NOV. 10 – THURSDAY
h. 12:30
Bye-bye cocktail