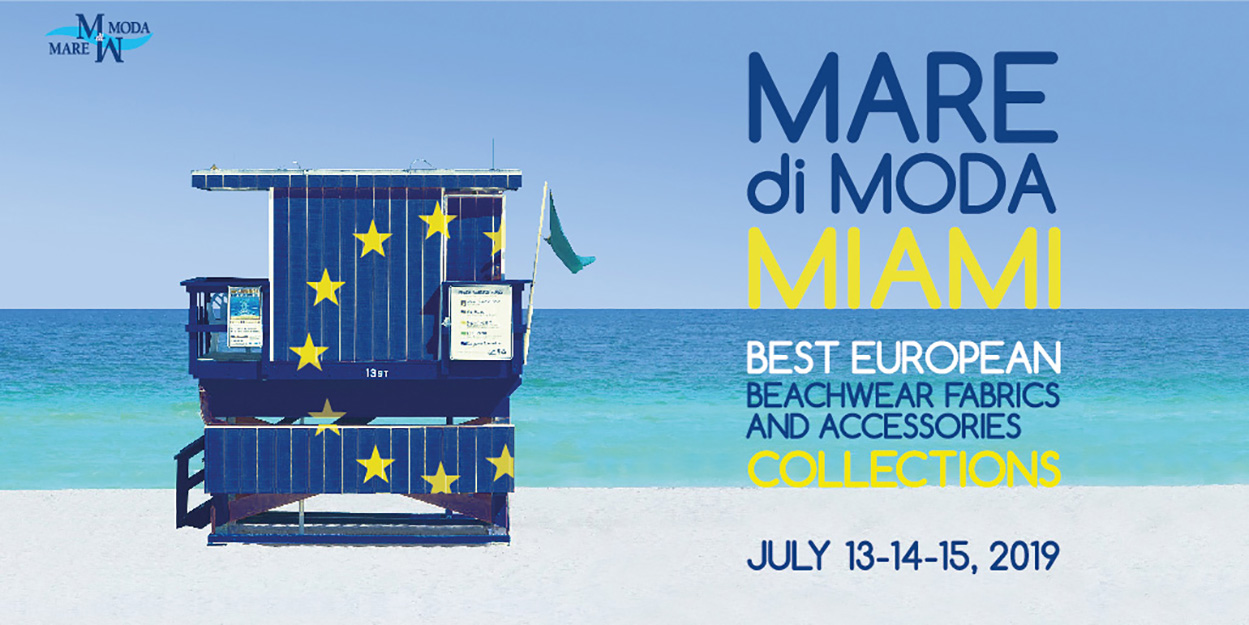 MarediModa on a mission to Miami for the Swim Week: an unmissable event 
Maredimoda will be showcasing in the suites of the Boulan hotel in South Beach from 13 to 15 July. This unmissable event aims to endorse more and more the European textiles and trims of genuine origin.
A MarediModa delegation of companies from: Italy, France, Spain and United Kingdom will have the opportunity to get in touch with the American brands throughout the most important event focused on beachwear of the American continent: the Miami Swim Week.
A must-see proposal of textile and trim collections:
Elegant and sophisticated plains, unique and iconic prints, vibrant and fresh colors, jacquards, flock prints, laminated and metallic fabrics, laces, embroideries, fringes, sequins, precious trims,  innovative rubber-elastic tapes, hi-tech and sustainable fabrics. All you need for your outstanding collections of: beachwear & swimwear, underwear, athleisure, activewear & bodywear, resort wear and cruise wear.
EXHIBITORS
BORGINI JERSEY S.R.L.
CLERICI TESSUTO & C. S.P.A. – div. Beach & Body
ESTILMAR S.A.
EUROSTICK S.P.A.
EUSEBIO S.P.A. – CONFIDENCE
FADA TESSUTI S.R.L.
FRATELLI LEONI S.R.L.
JUNIOR HAGEN LTD
LIBERTY FABRICS
LYMA INTERNATIONAL S.R.L.
MAGLIFICIO RIPA S.P.A.
MAURI ANGELO S.R.L.
NEXTIL GROUP: DOGI – RITEX
RATTI S.P.A. – div. Setamarina
ROCLE BY ISABELLA RBX S.A.R.L.
TAIANA S.P.A
For more info please contact: info@maredimoda.com