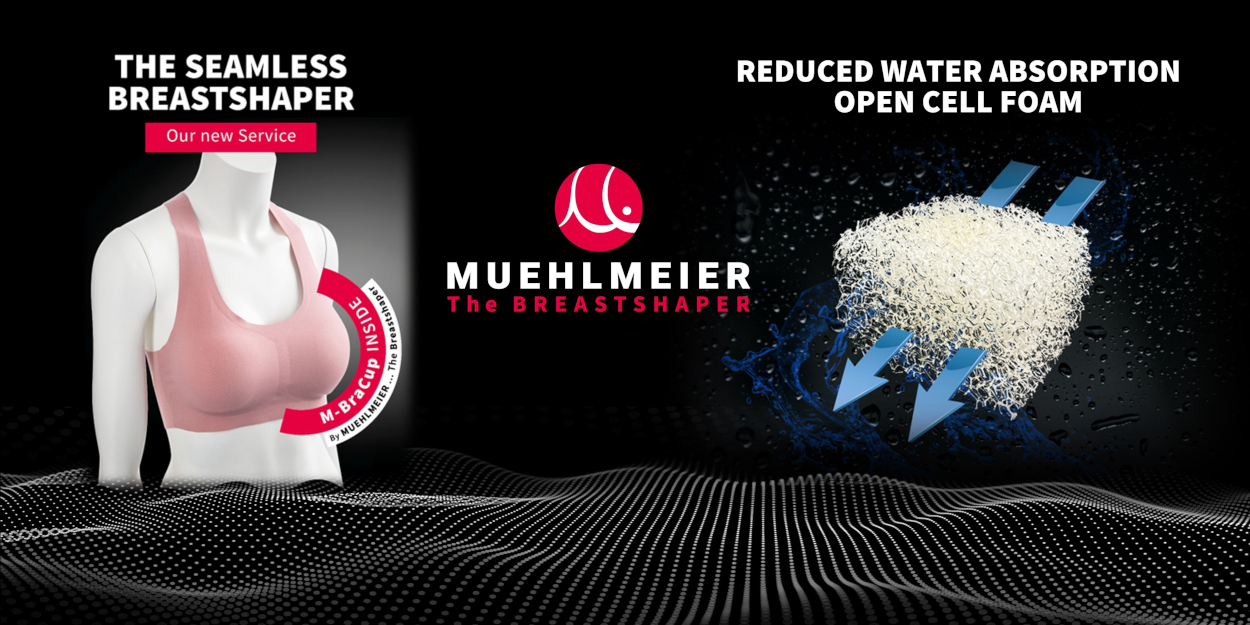 (company news)
Muehlmeier presents new foam material for Swim & Active Wear M-BraCups 
SPECIAL REDUCED WATER ABSORPTION M-BraCups -OPTIMIZED FOR SWIMWEAR AND ACTIVEWEAR…
The M-BraCups are made of an innovative "open cell foam". It is a very airy open-pore foam with small cells that are not completely sealed and allow air to fill the space. The effect is a reduced water absorption of the cup and fast drying after swimming and workouts.
THE SEAMLESS BREASTSHAPER…
Seamless bonded bras are revolutionizing the lingerie world, setting a gold standard in design, comfort and functionality. Their distinctive features set them apart and underscore their rapidly growing popularity.
MUEHLMEIER's experience and expertise in this particular field are based on a successful and pioneering collaboration with a renowned Korean home-shopping firm almost a decade ago.
Today, MUEHLMEIER's latest seamless bonded bras define the state-of-the-art Seamless Breastshaper Bra with a combination of proven M-BraCups and experienced seamless bonded bra know-how.
Unique MUEHLMEIER Seamless Added Values:
Anatomically adapted M-BraCup INSIDE
They provide optimized support and perfect fit. They give even more hold & security to the seamless bra.
Unsurpassed functionality & design options
Everything is possible… different qualities from super soft and stretch to sectoral, adjustable compression. From classic bras to individual pattern design. Different fabric structures also in lace.
Production
Realized by ODM/OEM production for the individual brand!
MUEHLMEIER Brand customers are invited to start with the base collection of Seamless Bonded products and develop their specific Private Label product. Targeting the new young potential market segment and diversifying the product portfolio.