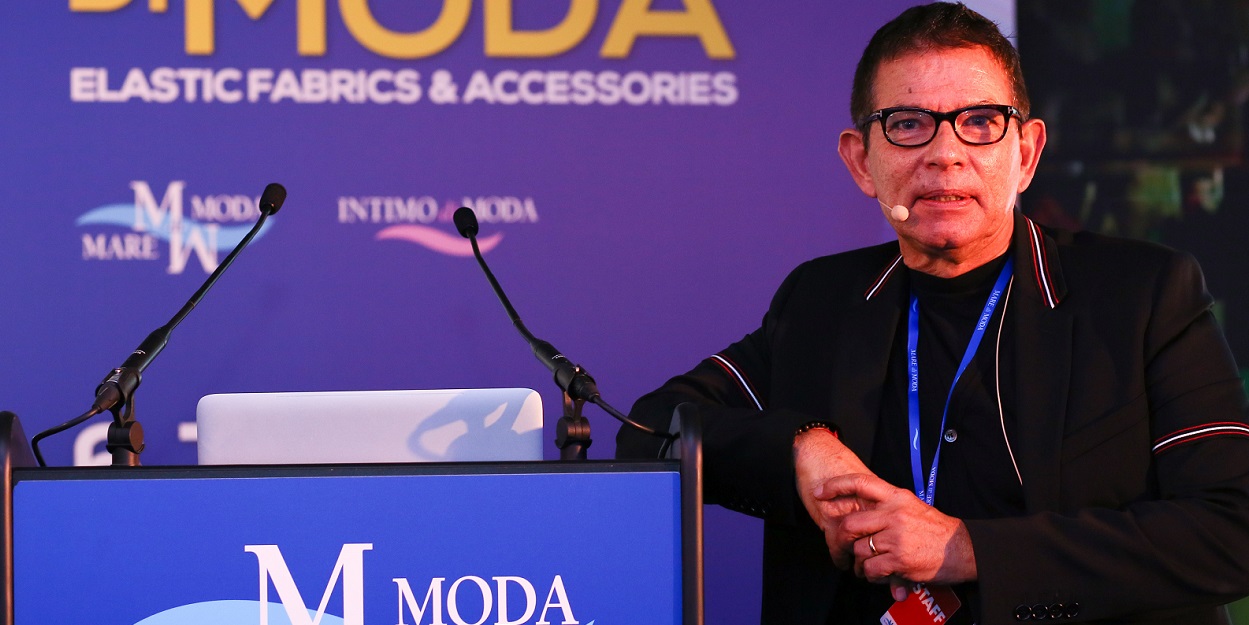 "Reset or Restoration?" by David Shah, Head of the MarediModa Trend Board
David Shah, world-renowned trend forecaster and head of the MarediModa Trend Board, gives us his vision on the post-covid world.
This viewpoint has been published in the latest unmissable issue of Textile View Magazine #130, a benchmark publication in the textile fashion industry.
info@view-publications.com
RESET OR RESTORATION?
If you believe all that you read, many things will never be the same again after the coronavirus pandemic. Already, in cities across the world, urban transport and infrastructure have been transformed. So have air travel, office work, sport, dating, eating out, cinema and theatre – and that's just the start. We have barely hit retail and shopping yet!
The consensus is that the pandemic exposed fractures that were already evident before its arrival: inadequate healthcare systems; the inequalities between races and classes; the incompetence of some of our politicians; disunity not unity; the fatal consequences of diminished public services.
The Financial Times, an establishment bastion, says that "radical reforms – reversing the prevailing direction of the last four decades – will have to be put on the table." Nature has become the cure-all; the unskilled are now the skilled; and, after governments subsidised people to stay home, there is serious discussion about a universal income.
But it's not the first time that we have stared disaster in the face and expected transformation. As the financial crisis of 2008 showed us, it takes more than hope to change the world. So it is to be reset or restoration? No one can answer that question, because no one knows what's going to happen once the coronavirus has subsided – or when or if we will find a vaccine. The best prophet, wrote Thomas Hobbes, is the best guesser. However, one thing is sure: what the consumer is searching for now is security, trustworthiness and clarity.
Unpicking the world
We need to accept that the pandemic and the damage it has done has not necessarily changed the world, but has accelerated trends that were already shaping business. When it comes to deglobalisation, companies have been busy lowering their exposure to countries that carry high geopolitical or health risks for some time. In 2018, the global value of cross-border investment by multinational companies fell by around 20%, according to figures cited in the Economist, and world goods trade may shrink by another 10-30% this year.
Even though a fractured world will make solving global problems (like finding a coronavirus vaccine, opening borders and structuring international loans) all the harder, nationalism and populism continue to raise their heads. Examples range from Narendra Modi, India's prime minister, declaring a new era of economic self-reliance to the European Union's creation of a fund to buy stakes in firms. And that's before we begin to discuss the latest round in the trade war between China and America.
It's fine to criticise a system that clearly has faults – greed, inequality, pollution. But that same system has also lifted many societies out of poverty and improved life expectancy and education. And no one has yet come up with a reasonable alternative structure that will work as well. Reshoring, local craft and self-sufficiency are wonderful ideals but what happens to Bangladesh's 3.6 million textile workers?
Big data and automation
In the fashion world, we have been talking about data for many years now and it can only encroach further on our lives. In purely business terms, anything that promises to reduce stock and minimise risk has to be a plus – and good information can do that. There are massive losses to make up for, while reshoring means higher production costs. Artificial intelligence, virtual design, digital product development, networked factories and 3D printing can all help offset costs.
On 30 April, Microsoft CEO Satya Nadella said the software giant had seen "two years' worth of digital transformation in two months" with coronavirus shifting our lives abruptly online. Advertising tycoon Martin Sorrell predicts that the coronavirus pandemic will prompt firms to accelerate their digital transformation as part of a permanent shift in consumer and business behaviour.
The virus has also opened the door to a robotic army and the post-coronavirus workforce could look quite different. Economic downturns have a history of spurring automation: four in 10 companies surveyed by consulting firm EY say they are now bringing forward their plans for automation. Fully automated stores such as Amazon Go seemed like a technological curiosity a few months ago. Today such contactless operations look like a necessity.
It's not just economics and safety issues driving all this. The techlash that was gaining ground before the virus seems to have dissipated. How would we have survived the lockdown without the internet for company? New tracking tech has also opened lucrative new markets for companies that extract, sell, and analyse private data.
Consolidating power
Has Covid-19 changed fashion into a winner-takes-all market? Both Amazon and Ali Baba have prospered during the pandemic. In April, analysts estimated Amazon's first-quarter revenue at $73 billion – which translated into sales of $10,000 per second according to a calculation by the Guardian – despite intense public debate about Amazon's tax affairs, handling of staff safety and ultimate effect on small retailers. As safe distancing remains an issue, there is no doubt that e-tailing will grow, as will the contest between the American and Chinese giants.
In the luxury world, French super powers LVMH and Kering are locked in a battle of their own. Both have been hard hit by the pandemic and the luxury sector is forecast by McKinsey & Company to shrink globally by 35-39% this year. At the end of May, LVMH's share price had dropped by 13% from the beginning of the year, while Kering's had dropped 26%. On the bright side, Chinese consumers are beginning to spend on luxury again, even though they are not travelling and general consumer spending in the PRC is down 7.5% year-on-year, according to the country's National Bureau for Statistics.
Interestingly enough, while it might not seem sensible to increase prices during a pandemic and a moment of weak demand, that's exactly what the luxury boys are doing. Louis Vuitton raised prices by 3% in March and another 5% in April. Chanel was even bolder, raising prices on some of its iconic handbags and certain small leather goods by between 5% and 17%. Of course, luxury prices rise all the time – often at twice the rate of inflation – due to increases in production costs and rents, and to customer psychology that equates high prices with desirability. This time, it's to pad margins and cushion the bottom-line impact of lower overall sales volumes as brands try to make up for revenue lost during weeks of forced store closures.
Analysts are confident in the long-term health of both LVMH and Kering: they are on solid foundations and have the cash, networks and production systems to endure. They might be consolidating their retail exposure but they will not be shy about any M&A possibilities that emerge as smaller players in the luxury circuit suffer. Remember, LVMH has gone from three assets – Louis Vuitton, Moët & Chandon and Hennessy – to 76, counting Tiffany. Why should it stop there?
So far, we have only talked about the behemoths. At the other end of the scale, the coronavirus problem could breathe more life into small, local business. In spite of the difficult conditions, a new sense of solidarity and community shone through among the public, with many people trying to support local companies when they shopped. Business models reliant on maximum footfall are at odds with social distancing, and customers wary of public transport will be more likely to walk or cycle to their local high street – especially when there is a good selection of independents and local councils are busy implementing car-free shopping zones. UK figures from Kantar show a 63% surge in trade for corner shops and independent grocery stores in the three months to 17 May.
The fashion conundrum
Fashion is hardly the place to be at the moment. The sector is expected to contract by 27-30% this year, according to the State of Fashion 2020 Coronavirus Update report by the Business of Fashion and McKinsey & Company. It hasn't been easy for the fashion industry for some time, but "doing the right thing" was not only the fashion norm of 2019, but also encapsulated much of the industry's response to the pandemic. LVMH provided 261 ventilators to French hospitals and reopened 12 Louis Vuitton handbag factories to sew protective masks. Countless companies and young designers kept busy sewing masks and producing protective clothing and hand sanitiser for their local health services.
But once the tempest dies down, the industry will have to face a recessionary market, a wave of insolvencies and a production system undergoing rapid transformation. Even worse, the quarantine on consumption could accelerate some of the consumer shifts concerning waste and sustainability, driving down acquisitions or moving more new customers into renting and resale.
That said, the coronavirus has also presented the fashion world with a chance to completely reinvent itself or, rather, to reshape its value chain and modus operandi. Will it seize the opportunity?
Some brands are certainly trying. In May, a group of designers and retailers wrote an open letter acknowledging that the current system of merchandise deliveries didn't work – with coats being shop-windowed in July and swimwear in January. Their argument was made all the clearer by the seasonal delay forced on us by the virus. Designers including Thom Browne, Dries Van Noten, Tory Burch, Erdem Moralioglu and Gabriela Hearst were behind the letter, as well as retailers Nordstrom and Bergdorf Goodman in the US, Lane Crawford in Asia and Selfridges in Britain. At the time of writing, nothing had been said by other major brands such as those in the LVMH stable (which includes Dior, Givenchy and Fendi), Kering standard-bearers like Gucci, Saint Laurent and Bottega Veneta, or by Prada, Armani, Ralph Lauren and Calvin Klein. Cooperation has never been a fashion industry strongpoint, and history suggests that even the best ideas can fail if the critical mass is not there. But let's see.
May also saw the Rewiring Fashion group offer its manifesto, which covers not just the revision of the current fashion calendar but also the whole raison d'être of fashion shows.
The biggest noise behind rethinking fashion shows has to be from Kering, with Gucci's Alessandro Michele saying fashion shows were obsolete and that he was no longer adhering to a rota staked out by spring/summer, autumn/winter, cruise and pre-fall shows. From now on the company will do two rather than five shows a year. Saint Laurent announced in April that it would not take part in Paris Fashion Week this September and will set its own schedule going forward, a decision made amid "waves of radical change".
The youth factor
The youthquake, powered by Generation Z, is also set to impact the post-coronavirus fashion market. Proselytising the principles of hopepunk, Gen Z want to see a better world, where creativity, identity, community, optimism and empathy come first. Their voices will only grow stronger, especially now that they feel they are giving up their futures so that the old may live.
According to Eurostat, youth unemployment in southern Europe already stood at 30% before Covid-19 hit and prospects look worse than after the 2008 financial crisis. The short-term shock of the pandemic will leave long-term scars. The Resolution Foundation estimates that the pandemic means those emerging from education this year will be less likely to have jobs in three years' time. The likelihood of being in employment would fall by 13% for graduates and 37% for those with the fewest qualifications.
Naturally, younger generations will demand that a post-coronavirus economy is not built on the backs of the under 35s, as it was after the Lehman fiasco. And their influence and ability to change things should not be underestimated. They are informed, digitally fluent, organised, and stalwart supporters of equality, addressing climate change and promoting LGBTQ+ rights.
Before the pandemic, it is estimated that two-thirds of clothing was bought in stores, according to research carried out on behalf of the Royal Society for the encouragement of Arts, Manufacturers and Commerce. But, due to the virus and the lockdowns that followed, Gen Z's "buy less, buy better" philosophy, built around recycling, sustainability, hacking, renting and resale, is catching on with older generations. The research also found that the pandemic caused 28% of people to recycle or reuse more clothes than normal and that 35% of women intend to buy fewer clothes in the future.
Such behaviour spells problems for the fast-fashion business and also touches on the waning power of celebrities and influencers. Consumers are now looking to a new set of heroes, centred on scientists and key workers, and many brands are downsizing their influencer campaigns in an effort to be more down-to-earth and direct with their customers, using targeted e-mails or spotlighting their own employees.
So what awaits the fashion industry? It's fairly safe to say that the future of fashion revolves round 10 key points.
1. The big fish will eat the small in a period of intense industry consolidation.
2. Everything to do with digital will accelerate and the wholesale system will decline.
3. The Chinese will bounce back first to account for as much as 50% of the luxury market, and they will do their shopping at home.
4. Local could be the new black as we see fewer and smaller collections, together with reshoring and investment in local manufacturing.
5. Seasonal trends will slowly disappear as we focus more on investment items. In-season retail will slowly win through.
6. The concept of fashion shows will be completely overhauled.
7. Digital will become a key component in sales as buyers travel less.
8. Resale, rental and transparently sustainable business will grow.
9. Athleisure and loungewear are far from over – especially as working from home will become the norm for some sectors.
10. The shift to more restrained, timeless pieces will ultimately give way to exuberance and excess – just as wartime fabric rationing paved the way for Dior's New Look collection in 1947.
Shall we go shopping?
For the high street and shopping malls, this is a life-or-death moment that could change the face of shopping as we know it.
As we write in our season intro, page 142, the crisis fuelled internet business and hastened the demise of the department store and the traditional shopping mall. RIP Neiman Marcus, JCPenney, Debenhams, Laura Ashley and Warehouse, to name just a few. In addition, any post-lockdown return to profitability could be hampered by the twin evils of rising operating costs and weak consumer demand. Certainly, out-of-town operators will find it easier going than crowded, high-volume city-centre stores reliant on footfall.
The good news is that the end of lockdown in certain European countries did see shoppers heading back to bricks-and-mortar destinations. On the first day of relaxed regulations and store openings in England, footfall in high streets was up 31.5% and shopping centres 37.8%, according to Springboard. In many countries there were long queues outside branches of Ikea and, of course, Zara. But whether this was a knee-jerk reaction to consumption quarantine or a long-term attitude remains to be seen.
Looking at future retail valuations on the stock market, the gap between the winners and losers is only widening as investors continue to support long-held views about the growth of digital versus physical. According to Refinitiv's estimates for year-end 2022, the online budget clothing retailer Boohoo is valued at 42 times earnings, while Marks & Spencer is valued at six times.
A kindness economy?
The recession that followed 2008 led to the rise of big discounters such as Lidl, Aldi and Primark. They will be more important than ever as the post-Covid-19 economy further polarises the haves and have-nots. But it won't just be about price – UK shopping guru Mary Portas believes that what shoppers are looking for has changed and is strongly arguing for "the kindness economy". In her newsletter, The Reset, she describes "a new era of shopping and living".
In an interview with the Guardian, she also predicts that the era of fast fashion and overstocked department stores is coming to an end after 20 years. Acknowledging the continued importance of deep discounters, she believes that increasing numbers of people will want and buy brands that reflect their personal values. The companies that proved heroes in the pandemic will win lasting goodwill towards their brands, unlike those that tarnished their reputations. Certainly, as we have already said, such a mindset is going to favour the hyper-local movement and the neighbourhood shopping lobby.
Whatever the level or the location, McKinsey & Company is right when it argues that the Covid-19 crisis has led to dramatic shifts in consumer behaviour and retailers will have to work hard to meet ever-evolving customer experience requirements in order to win and remain relevant. "They should set specific goals across five actions," explains the management consulting firm in the article Adapting to the Next Normal in Retail. "Double down on digital, inject innovation in omnichannel, transfer store operations and win on 'SafeX', reimagine the physical network, and embrace an agile operating model."
Conclusion
The French prime minister, Édouard Philippe, summed up the situation when he told parliament the decision to confine the population to their homes months ago had saved 62,000 lives but it was now time to start lifting the lockdown to avoid economic collapse. "We are going to have to learn to live with Covid-19 and to protect ourselves from it," he said. "It is a fine line that must be followed. A little too much carelessness, and the epidemic restarts. A little too much caution, and the entire country sinks."
The first thing that happens in a recession tends not to be radical re-engineering of the economy, but calculating what can be saved and what has to be sacrificed. That's exactly what happened after 2008 when the banks were recapitalised and 10 million Americans lost their homes. History shows that the errors a crisis exposes are soon covered up in the aftermath.
Will the same happen now? They say a leopard never changes its spots. Certainly, the end of lockdown saw some unseemly bouts of public behaviour at some beaches and parks. It also saw a rush to visit favourite retailers and shopping centres – LV and Chanel at one end of the market, Ikea and Primark at the other. Though we clamour for a new world to come out of this crisis, it will not happen without a fight.
By 2022 the world will be fundamentally changed, much the same, or somewhere in between. We think it will probably be much the same but, hopefully, with some significant changes. We will definitely care more about environmental policy and climate change; we will have to listen harder to the demands of the youth whose futures have been sacrificed to the pandemic; and we will all have to learn to make do with less.
DAVID R SHAH