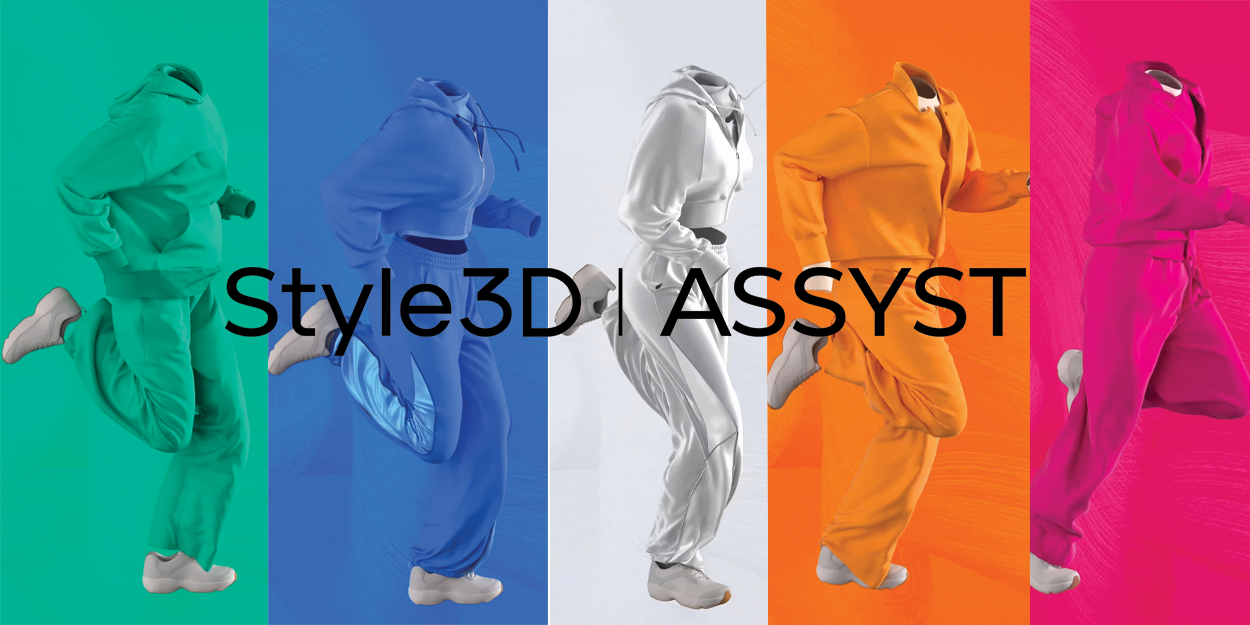 Style3D Assyst at MARE DI MODA 2023. The first digital ecosystem for fashion – 3D Design, Production Ready
• Style3D Assyst presents the most advanced level of 3D innovation integrated into an end-to-end system
• Integrated solutions: fabric digitization with state-of-the-art systems, advanced 3D creation and editing tools, cloud-based digital asset libraries (over 50,000 fabrics, accessories, prints, graphics, avatars, patterns…), collaboration tools
• Comprehensive portfolio of digital solutions for product development and pre-production in fashion & textile
• Solutions to reduce costs and material waste, supporting process sustainability
• Collaboration with E. Boselli & C. on fabric digitization and how to present digital samples.
Style3D Assyst presents the first integrated and sustainable digital ecosystem for fashion at Mare di Moda. An all-in-one solution to simplify fabric management, collaboration and marketing.
Fabric becomes digital, with extreme precision, true to life, thanks to the use of a set of tools integrated in Style3D Fabric, which automatically capture its textures, visual effects but also all its mechanical characteristics.
Turning physical fabrics into digital fabrics enables more efficient asset management and the ability to immediately see the output on a simulated 3D garment. This allows customers to choose fabrics digitally, even before they see them physically, reducing waste, overproduction, ordering only those that will go into production, in favor of process sustainability. And in real time it is possible to make changes to digital fabrics, to modify their color characteristics, repetition and size, visual effects, enhancing creativity. All without ever having produced even one real sample.
The integration with Style3D Studio allows you to immediately visualize the fabric rendering on a garment in 3D, immediately presenting the final effect on the product.
With Style3D's full suite of Style3D: Style3D Fabric, Studio, Cloud and the versatile Digital Content Service, brands and manufacturers can enhance fabric digitization, 3D design, collaborative work between process partners in a seamless flow and cross-functional 3D asset management with unprecedented quality.
Style3D | Assyst presents the collaboration with E. Boselli & C.
At the E. Boselli & C. booth there will be a corner dedicated to the digital world of fabrics. A Fabric Kiosk, belonging to the new Styleverse generation presents physical fabric swatches in interactive mode digitally on a touch screen and offers the possibility to already see the digital swatch on a garment made in 3D. From a single digital swatch, it is possible to make as many changes as the manufacturer and buyer desire in terms of effects, colors, repeat ratios, texture and physical characteristics, immediately seeing the effect on the simulated garment in 3D. It leads the way for a collaborative digital ecosystem that connects fabric producers, fashion brands and manufacturers, with a focus on waste reduction, cost optimization and, most importantly, sustainability.
Special at Mare di Moda
As a world premiere, Mare di Moda will feature the 2D-3D Connector solution, the first system that seamlessly and bidirectionally connects the 3D world with the 2D world. In a seamless digital ecosystem, designers create their styles and see them produced exactly as they want them. Real-time updating of a finished model ensures that the design can be produced as intended. Pattern makers and designers work simultaneously in a collaborative mode, reducing process time while enjoying the best of each technology. In this way, the pure 3D model is enriched with complete information for production, information on actual fabric usage, and the right appearance of a wearable garment with correct seams and hems.
In this way, Style3D Assyst provides a direct link between the digital products and the production of physical products for sale.
Join Style3D Assyst conference on November 8th at 10:30 – MarediModa Events area (get your free-pass):
"3D Fashion Panorama: be inspired – Be ready to create – A digital journey from fabric sourcing to product showroom"
Who we are: Pioneering the future of fashion in the digital age
Style3D Assyst enables apparel manufacturers, suppliers and retailers to create and produce successful fashion products and present them virtually on any retail or marketing platform instantly.
With our innovative technologies, we are pioneering the transformation of the apparel industry to a fully digital, sustainable and profitable future.
Our team consists of more than 600 fashion and technology experts in 15 locations worldwide. We offer software and solutions for 3D design, fabric simulation, 2D pattern development, nesting, costing, 3D asset management and collaboration, and retail in more than 60 countries. Through collaborative research and development with leading universities, we ensure leadership in development.
Style3D and Assyst are represented in Europe and other regions by Assyst GmbH.
PRESS CONTACT
————————————–
Sistemi Assyst
Giovanna Langè, P +39 (0)2 93769220, giovanna.lange@assyst.de, www.assyst.de