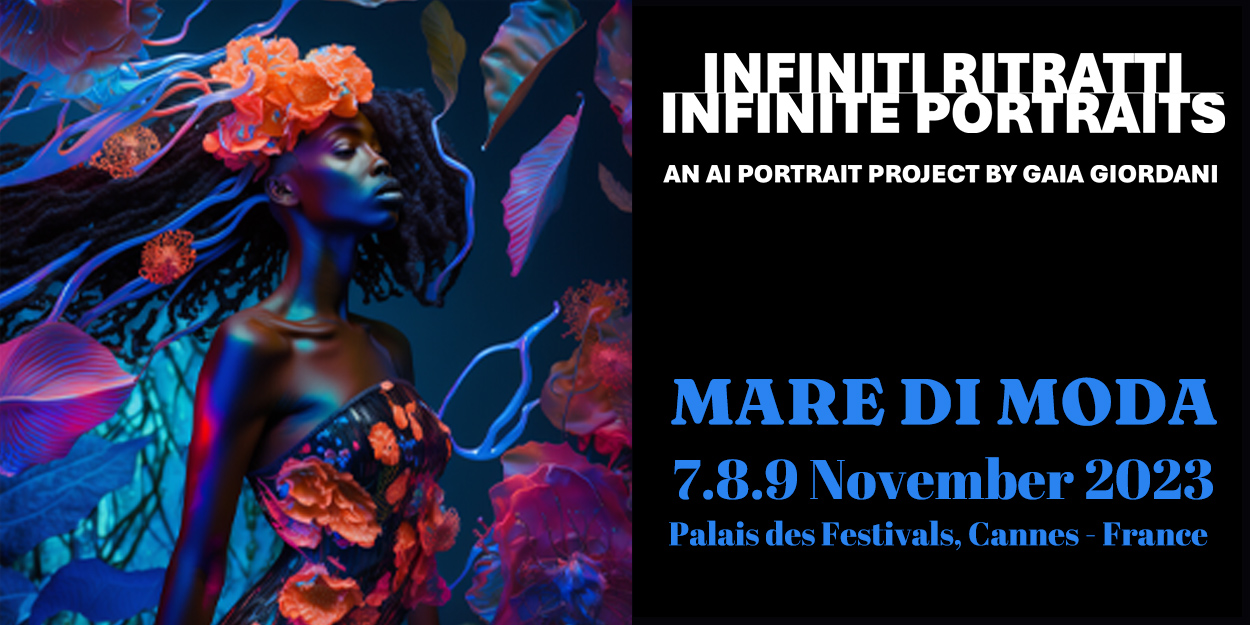 The "Infinite portraits" project by Gaia Giordani @ MarediModa Cannes
The project was carried out between February and April 2023, using Midjourney V3 (version 3), a text-to-image generator powered by AI. Each 'portrait' represents the transformation of short semantic prompts into signs. Each AI generated artwork has been the result of human textual prompts written by the author. No photo editing has been used to modify the original images. Imperfections, randomness, distortions and free interpretations ('hallucinations') feature each artwork which turns unpredictable as the result of no direct correspondence between the author's intention and the process of the machine. Analogue and digital neural networks combine to create an exclusive output.
"Seriality is the sense of this technical-artistic experimentation focused on experiencing a succession of variations on a main theme. The author, like a digital demiurge, draws on Artificial Intelligence underwater and subconscious elements. The main character is depicted as a generated woman, floating in an environment reminiscent of an amniotic fluid. The context revolves around the use of central elements such as corals, jellyfish, fishes and air bubbles which stand out as a semantic mainstay from where the narration unfolds; the elements merge with the female figure, constituting the very identity of the subject. Corals turn out their pink hues into material elements such as fabrics and textures, bubbles are transformed into blown glass helmets whilst the anatomical parts of the jellyfish inspire tentacles games and aquatic reflections. Fishes evolve in prints and scales, which are released as soft armour by the protagonist".
Visit the "Infinite Portraits" exhibition @MarediModa Cannes (November 7-8-9, 2023) – get your free-pass: click here
Gaia Giordani, born in Verona in 1981 and currently residing in Turin, is a professor specialized in Sociology of Communication and Content editing. She is an expert in digital media and communication with a background in international magazine editorial teams and advertising agencies. Gaia has a keen interest in exploring the relationship between technology and communication. Since her works are generated by artificial intelligence and are not created by human sensitivity, she does not consider herself as an artist. She sees herself as an explorer delving into the expressive potential of generative AI.