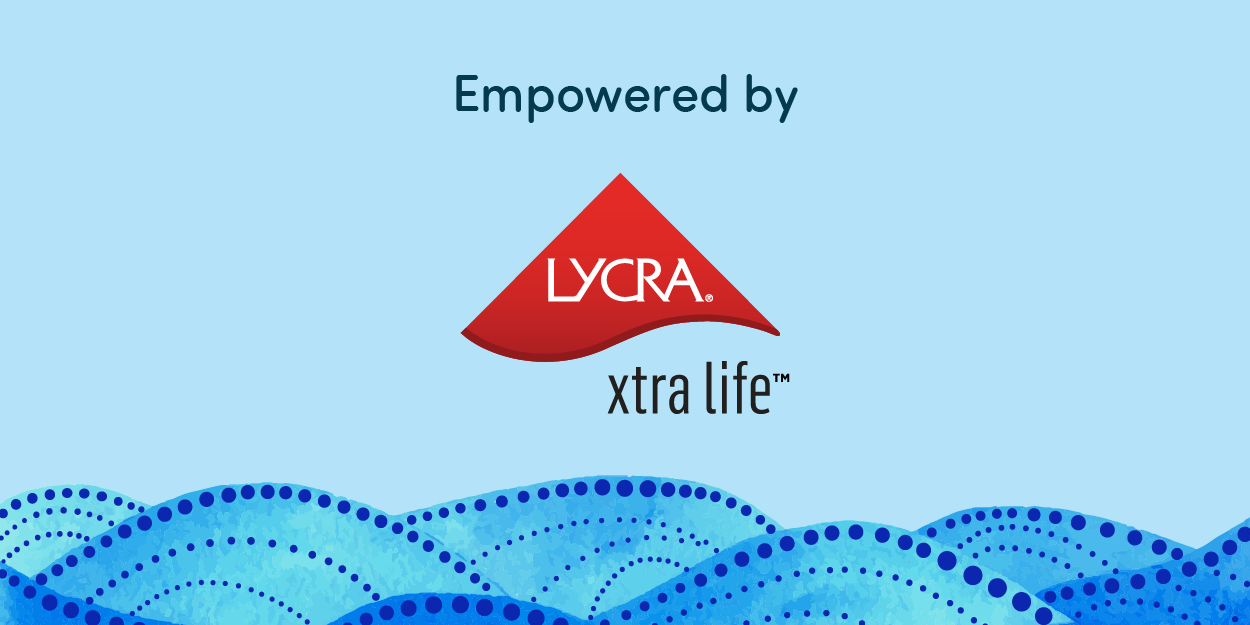 The LYCRA® company and MarediModa,  an enduring partnership that's all about innovation
IN OCCASION OF THE FIRST MARE DI MODA DIGITAL SHOW  THE UNIQUE VALUE OF LYCRA® XTRA LIFE™ FIBRE FOR PREMIUM SUSTAINABLE BEACHWEAR IS RECONFIRMED.
LYCRA Company is delighted to support the first virtual MarediModa show in celebration of swimwear. As a global leader in developing innovative solutions for the apparel industry, the LYCRA Company has a rich heritage in swimwear, working with the world's leading fabric mills.
LYCRA®XTRALIFE™ fibre continues to offer outstanding performance in swimwear – protecting the fabrics from the harsh effects of the pool environment and offering unparalleled chlorine resistance and durability to garments.
Swimwear that incorporates the unique properties of LYCRA®XTRA LIFE™ fibre maintains its appearance, its shape and its fit up to 10 times longer than fabrics with unprotected spandex.
Sunscreen, pool water, oxidation and heat can quickly degrade swimwear but LYCRA®XTRA LIFE™ fibre stands up to the harsh swim environment that causes fit loss and fibre breakage and protects your swimsuit for longer.
Extending the life of these precious garments ensures that LYCRA®XTRA LIFE® is a fibre that helps retain excellent fit and delivers a sustainable swimwear solution.  
Chosen by the most coveted swim brands around the world, LYCRA®XTRA LIFE™ fibre sets the standard in swimwear, delivering long-lasting fit.
Visit the dedicated LYCRA®XTRA LIFE™ fibre area on the MarediModa Digital Show website to learn more about how LYCRA® XTRA LIFE® fibre offers a sustainable swimwear solution.
About The LYCRA Company
The LYCRA Company innovates and produces fibre and technology solutions for the clothing and hygiene industries, along with special chemical products used in the spandex and polyurethane value chains. Headquartered at Wilmington, Delaware, The LYCRA Company is renowned worldwide for its innovative products, technical experience and unrivalled marketing support. The name of The LYCRA Company is new but its story dates back to 1958 with the invention of the original spandex yarn, a LYCRA® fibre. Today, the company is focused on adding value to its customers' products through the development of unique innovations designed to satisfy consumer demand for comfort and lasting performance. For further information, you are invited to consult lycra.com.
LYCRA® and LYCRA® XTRA LIFE ™ fibres are trademarks of The LYCRA Company
For further details, please contact:
PR & PRESS ITALIA (MARCHIO LYCRA®)
AD MIRABILIA
Fulvia Concetti – concetti@admirabilia.it – 02.4382191