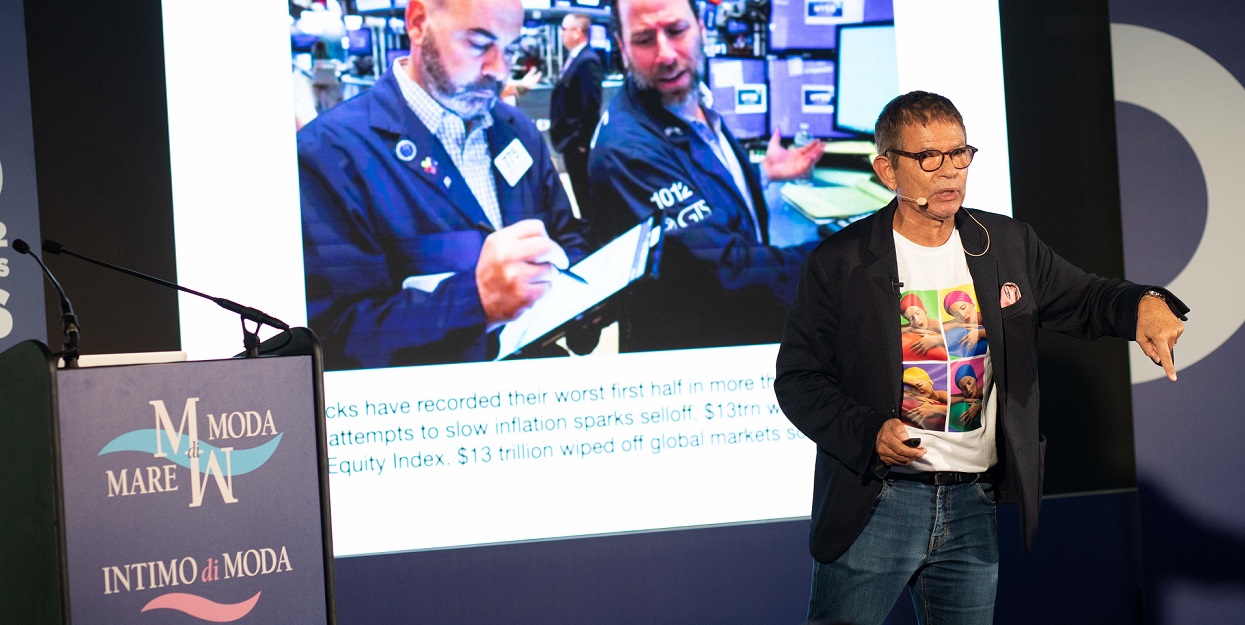 The rise of Gen Z and the importance of "traceability" – Interview with David Shah
Interview with David Shah, coordinator of MarediModa Trend Board, the team of professionals in charge of designing the exclusive beachwear, intimates and athleisure trends for the MarediModa Cannes trade show.
What will be the most impactful innovation in the fashion textile sector in the short/medium term? (AI, 3D technology…)? What emerging or unforeseen trend in the fashion business is taking place post-pandemic and in this period of international uncertainty?
AI, 3D, metaverse, digitalization, all these things are running and going steadily, and getting better and better, but I think the biggest impact in terms of innovation it's got nothing to do with technology, although technology is really at the back, but what is the most impactful innovation in fashion is the take-over of Generation Z.
Covid didn't change the world, but accelerated things. Before Covid we had a situation where you went to a restaurant or hotel in Milan and when you looked around there was a very mixed generation of people, mostly 40/50 year olds. Now you're going to a situation where you go through a hotel in London or a restaurant in Amsterdam, you look around and everybody is 30 and you say "wow, what happened to my age group?" And my age group is staying at home watching Netflix and enjoy themselves with soft pijamas and cashmere throws and it's not that we're not spending but we're indulging, we are definitely cocooning at home and it's Generation Z who is out and shopping. When you look at the queues outside LV and Dior it wasn't the Chinese because they were stuck at home it was still the young generation. So is the young people who are now driving the wheel of fashion and the buying of fashion and the doing of fashion that has to change the way companies present collections and think about their collections.
It's the end of the systematic, trend based approach: "what's coming? Here's the trend, let's go out and make it".
We are now facing a market when Generation Z might be strong about community and might be strong about standing together for a better world and better climate but they are very, very niche, and very, very individualistic. It's really about them being themselves and dressing to express themselves and dressing for how they feel and this is creating a new type of fashion look it's very "micro trends" is not "macro trends" and understanding how this group buys and where trends come from, roots, influences it's a very different ball game for us and it's going to be a very, very different market.
The greenwashing bubble has now burst. What will be the perception of the public and what behavior in purchasing? What will be the keys to communicating a truly sustainable approach by textile companies and brands?
Everybody knows that the consumer continues to put responsible climate change and sustainability as key concerns and big factors and after Covid recent surveys by McKinsey confirms that consumers are prepared to pay more for products with a proven track record on sustainability. The other problem of course is been "greenwashing", it was very easy for companies to climb on the back of others just saying "you know we are a green company, because we put 1% of recycled fiber back into the whole story". So greenwashing has become a major concern, you know every year we have a new word, a key word, it was "recycling" and then it was "regeneration" but now the keyword is "traceability". Traceability has become the keyword and it's directly linked to greenwashing and the public and the business is very very keen to make traceability a real factor in the game. The Dutch Government have been fining companies who cannot prove what they say, so people are really looking at this. The problem that remains in the business is the complication of the whole thing. There are 300 different labels and every company has got a different label and different book and a different system and this makes life very, very difficult and expensive for a lot of manufacturers, so we are very keen to see, and everybody wants to see, a united system and it's up to the government to get on with it. A united system can be The Product Environmental Footprint (PEF) or it can be the digital passport. Sustainability is going to be a bigger and bigger player in the game. Having said that, I would say that I very much like what Stella McCartney said in her last summer collections, she said: "I don't want to be seen as a sustainable designer. I want to be seen as a designer who makes glamorous and beautiful clothes". We have to get to a point where sustainability is like quality, it's a given not a selling point and I think that's very important.
Get full access to the 2024 TREND BOOK and video presentation by David Shah: for more info click here