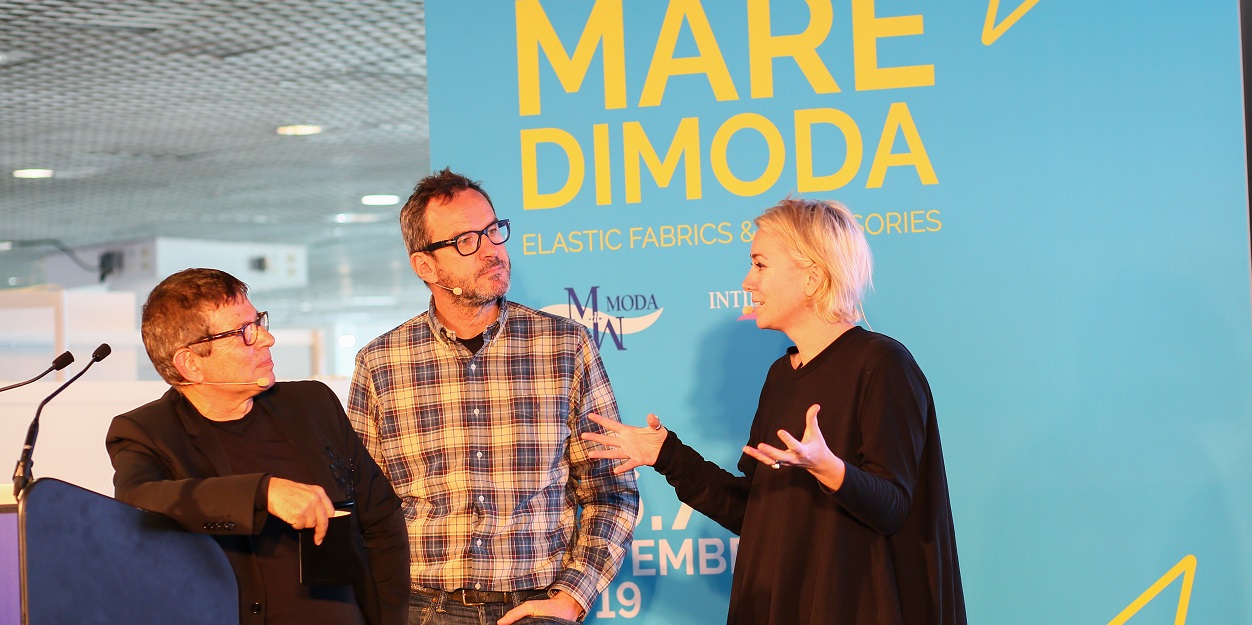 MarediModa 2019: when contents make the difference
The events on the agenda of the 18th edition of MarediModa, which are essential ingredients for the success of the trade show, were a sold-out.
It was started with the opening conference "Talkin' Bout A Revolution" handled by the famous photographer Settimio Benedusi, Janne Baetsen, cultural identity developer and David Shah, trend forecaster and publisher. They all made a sharp and gripping analysis about languages of contemporary fashion.
Next Arnaud Ruffin, director brands and retail Emea of Lycra, who illustrated the new LYCRA® FitSense™ project in a dedicated conference.
MdM Talking Fabrics was for sure one of the latest of this edition: the trend presentation by David Shah followed by an in-depth guided tour of the trend forum (click here to discover the 2021 trends)
The attended and traditional appointment: BEACHFABRICSTRENDS21 by Linea Intima and Intima in partnership with Maredimoda, by Francesca Spinetta Editorial Director – Intima Group – Network Dessous, announced the official launch of the new magazine The Best of Fabrics.
Listen to the interviews at the show:
The prestigious MarediModa Creative Excellence Award was delivered both to the Italian brand MC2 Saint Barth and the Slovenian brand Lisca as recognition of the professionalism, quality and creativity of the beachwear and underwear industry.
To finish the donation ceremony of a work of art by the artist Scoobafish to the municipality of Cannes, a sculpture made of recycled material. A tangible sign with a high symbolic value to underline the MarediModa attention to environmental issues.
Last but not least, the launch of a new process for swimwear: LYCRA® FitSense™. This patented water-based dispersion technology (which includes the same molecule as LYCRA® fibre) provides lightweight, targeted support to advanced swimwear made with LYCRA® XTRA LIFE™ fibre thanks to special screen printing in patterns or colour designs.
At MarediModa Sensil® presented its sustainability program, a key issue which triggered the research and development of the latest years. Among the most interesting new products: Sensil®Ecocare, a pre-consumer recycled nylon 6.6 and the European preview of the new Sensil®Breeze Recycled enabling an extraordinary refreshing effect, totally green.